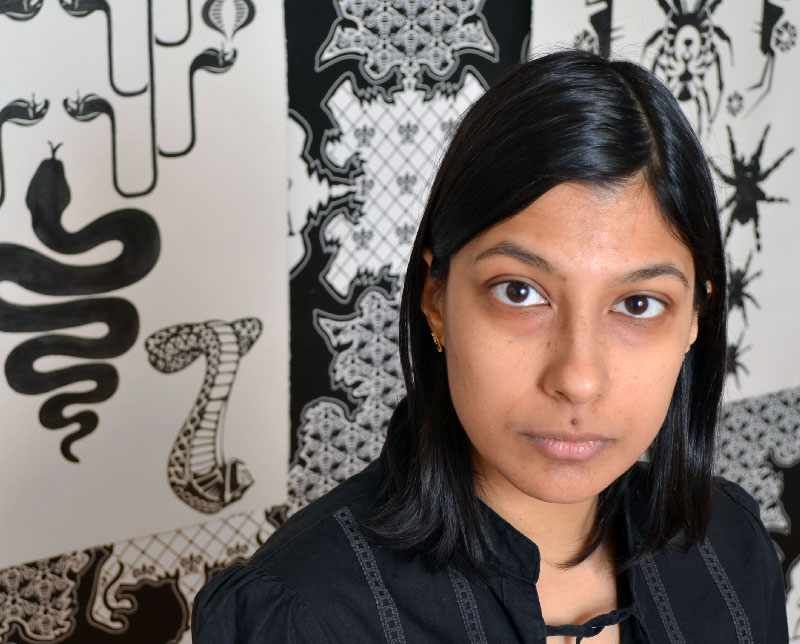 BIO
Vandana Jain is an artist and textile designer based in Brooklyn, NY. She received her Bachelor's from New York University and went on to study Textile Design at the Fashion Institute of Technology. Her work explores the intersections of pattern and symbol, and spirituality and consumerism.
Jain's work has been exhibited both nationally and internationally. In the last few years, she has had solo projects at Lakeeren Gallery in Mumbai, India (2012); Station Independent Projects, Lower East Side, NY (2013); and Smack Mellon and BRIC House in Brooklyn, NY (2014).
She has received several awards for her work including the Emerging Artist's Fellowship at Socrates Sculpture Park, the Lower Manhattan Cultural Council Workspace Residency, and the Joan Mitchell Painters and Sculptors Grant. Her work has been profiled in Artforum, The New York Times, Art Slant, Mumbai Boss, Kyoorius and Beautiful Decay.
ARTIST STATEMENT
My work recontextualizes the rich visual symbolic language surrounding us to comment on capitalism, globalization and consumerism. I often use labor-intensive and handworked techniques to contrast with the clean aesthetic and design of corporate brands and national flags. Some questions that I am addressing include the voice of the individual in contemporary society, the relationship of the spiritual to the commercial, and the larger political and economic power structures at play.
CV
DOWNLOAD CV (PDF)
SOLOS AND TWO PERSON EXHIBITIONS
2015

And If the Devil Is Six..., Station Independent, NYC

2014

Dazzle, Smack Mellon, Brooklyn, NY
Small Solo: House of Brands and Alphabet, BRIC, Brooklyn, NY

2013

Shorthand of Luxury, Station Independent, NYC

2012

The Invisible Hand Guides Us All to Our Gainful End, Lakeeren, Mumbai, India
SELECTED EXHIBITIONS
2016

Chez BKLYN, Galerie SE Konst, Falun, Sweden
Nature Pops!, Glyndor Gallery, Wave Hill, Bronx, NY
(In)Finite Futures, ABC No Rio, NY
Forever Now, The Mars Lab, Powerhouse Museum, Sydney, Australia
Exquisite Corpus: The Maize, New Jerusalem, PA



2015

Living Room, Artisterium 8, Karavasla, Tbilisi Georgia
Value of Food, St John the Divine, NYC
Adhere, Visual Arts Center of New Jersey, Summit, NJ
Ornate Activate, Shirin Gallery, Chelsea, NYC
Live For Now, Die for Later, mural, MALLONY Festival, Marijampole, Lithuania



2014

Zines+ and the World of ABC No Rio, Center for Book Arts, NYC
Screensavers: Travels in Sleep, BRIC, Brooklyn, NY
Surveillapocalypse, Five Myles, Brooklyn, NY
Sprunq!, 292 Gallery, NY, NY
Twist to Exist, Winter Festival, Sarajevo, Bosnia



2013

Debris Field, Castle Gallery, College of New Rochelle, NY
Her Stories, Taubman Museum of Art, Roanoke, VA
Summer Break, Station Independent Projects, LES, NY
Ghost Modernism, Quartair, Den Haag, Netherlands



2012

Toothsome, Bulletspace, LES, NYC
Her Stories, SAWCC 15th anniversary exhibition, Queens Museum
Arctypes and Well Rounded Characters, Studio 371, Jersey City, NJ
Amplify Action, Skylight Gallery, Brooklyn, NY
Trash Talk, Art Connects, Spattered Columns Gallery, Soho, NYC



2011

Spin Off: Contemporary Art Circling the Mandala, Koffler Center, Toronto, Canada
Open/Close, Cuchifritos in Essex Street Market, NY
Can't Hear the Revolution, Kunsthalle Galapagos, Brooklyn, NY
Document, ABC No Rio, NYC
Apartment Drafting 3, NYC



2010

New Sincerity, Brooklyn Fireproof, NY
Lost Symbols, St. Cecilia's Convent, NY
No Assumption, Minneapolis, MN
Into the Void, Index Art Center, Newark, NJ
Structures Within an Intervention, The Guild, NY



2009

Good Looking, Grey Noise Gallery, Lahore, Pakistan
Domestic Policy, The Guild, NY
God Don't Like Ugly, The Church of St Paul the Apostle, NY
Transitional Aesthetics, 798 Biennale, Beijing, China
Threads: Interweaving Textu(r)al Meanings, Center for Book Arts, NYC
Wonder What the Others Are Up To?, Gallery OED, Bangalore, India



2008

Labyrinth, Exit Art, NYC
Metropoles, Jamaica Center for Art and Learning, Queens, NY
Peekskill Project, Peekskill, NY
Homecoming, ABC No Rio, NYC
Exploding the Lotus, Art and Culture Center of Hollywood, Hollywood, FL
Emergence, Governors Island, NYC



2007

Drawn, Hanged and Quartered, Pace University, NYC
Emerging Artists' Fellowship, Socrates Sculpture Park, Queens, NY
The Occidental Artist, NurtureArt, Brooklyn, NY
Emergency Room, P.S.1, NY
Jiffy PoP, Rockland Center for the Arts, West Nyack, NY



2006

Pursuit of Happiness, Sarah Bowen Gallery, Brooklyn, NY
Thanks: Returning the Favor, apexart, NYC
Tropicalisms, Jersey City Museum, NJ
You Were Never Here, Soap Factory, Minneapolis, MN
A Distant Mirror, M.Y. Art Prospects, NY
No Money Down, Gallery Aferro, Newark, NJ
The Centre Cannot Hold, Toronto Free Gallery, Toronto, Canada
Well Read, NurtureArt, Brooklyn, NY
Sampler Stitch, Dam Stuhltrager, Brooklyn, NY



2005

Copilandia, Centro de arte de Sevilla (caS), Seville, Spain
Megacorp, PS122, NYC
16 Rooms, Brooklyn Navy Yard, NY
Dreamland Artist's Club, Creative Time, Coney Island, NY
Fatal Love, Queens Museum of Art, Queens, NY
Corporate Bodies, Momenta, Brooklyn, NY
Primary, Secondary: Contemporary Drawing, Brookdale College, NJ
Sub-version, PS 122, NY



2004

Territories, Gallery ArtsIndia, NY
Founding Fathers, ABC No Rio, NYC
AIM24, Bronx Museum of the Arts, NY
Eat Me, 65 Hope Street Gallery, Brooklyn, NY
RESIDENCIES AND FELLOWSHIPS
2015

Joan Mitchell Center NOLA Studio Program

2010

Joan Mitchell Painters and Sculptors Grant

2008

LMCC Workspace Program

2007

Elsewhere, Greensboro, NC, Summer
Emerging Artists Fellowship, Socrates Sculpture Park, Queens, NY

2004

Artists in the Marketplace, Bronx Museum for the Arts, Fall
SPECIAL PROJECTS
Arrow In, play by Nina Morrison, Dixon Place, 2012.
Girl Adventure: Parts 1-4, play by Nina Morrison, Dixon Place, 2011.
Market, (representing ABC No Rio), Living as Form, Creative Time, 2011.
In Peace and War: 3 Teens Kill 4, Theatre 80 St. Marks, 2011.
Book of Stamps, ed. by Sina Najafi, Cabinet, 2008.
PRESS
SELECTED PRESS (PDF)
Young, Stephanie. Vandana Jain Masks a Sinister Intention Behind Beautiful Optical Murals, Beautiful Decay, January 15, 2015.
Pangburn, DJ. Dazzle Camouflage Hides Logos in Optical Illusions, Creators Project, Sept 25, 2014.
Howard, Christopher. Shorthand of Luxury, Artforum.com, January, 2013.
Laluyan, Oscar. Symbols of Personal Luxury, Artefuse.com, Jan 14, 2013.
Painting by Logo, Mumbai Boss, Sept 13, 2012.
Cotter, Holland. Her Stories, The New York Times, August 16, 2012.
Shah, Pooja. Vandana Jain, Kyoorius, pp. 90-91, Fall 2011.
Hilgenberg, Holly. Home is Where the Art Is, Twin Cities Runoff, Dec 11, 2010.
Roalf, Peggy. Stitched Stories at Center for Book Arts, Design Arts Daily, July 8, 2009.
Manmadhan, Prema. Caught Between Two Cultures, The Hindu, April 27, 2009.
Genocchio, Benjamin. Maps of All Sorts Charting Mind and Space, The New York Times, March 16, 2008.
Gardner, James. A Blast from the Past, The New York Sun, March 27, 2008.
Mils, Michael. East Wind a Blowin', Broward Palm Beach New Times, April 3, 2008.
McAdams, Shane. An Exhibition worth Unwrapping, Downtown Express, Vol 19, issue 33.
Genocchio, Benjamin. Coloring a Tropical Paradise," The New York Times, December 3, 2006.
McAdams, Shane. ArtSeen: Well Read, Brooklyn Rail, April 2006.
Davis, Ben. Sign of the Times, arnet.com, August 17, 2005.
Kennedy, Randy. Flash, Dash and Now Art, The New York Times, June 17, 2005, pE33.
Scott, Andrea K. Brave New World, Time Out New York, March 17-23, 2005, p88.
Cotter, Holland. Taking a Magical Flight Through Modern India, The New York Times, March 4, 2005, pE33.
Herzberg, Julia P. AIM24, ArtNexus No. 54, September–December 2004, pp 176-177.
Genocchio, Benjamin. A Chance to Fill Up on Visual Treats, The New York Times, April 25, 2004.
Stillman, Nick. Introducing..., NYFA Current, May 5, 2004.
Cotter, Holland. Where Witty Meets Gritty, The New York Times, Nov 15, 2002, pE31.
Smith, Roberta. The New York Times, September 13, 1996, pC30.
BIOGRAPHICAL INFORMATION
Born in Queens
BFA, New York University
Lives and works in Brooklyn, NY